ACCDIS International Theoretical and Practical Course: «Metabolic Signaling and Chronic Diseases»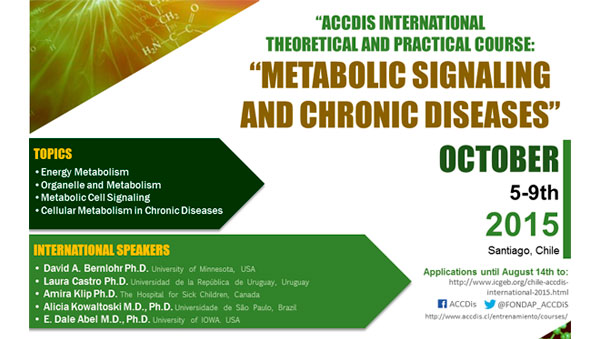 Centro Avanzado de Enfermedades CÓnicas – ACCDiSA
Invita a:
ACCDIS International Theoretical and Practical Course: «Metabolic Signaling and Chronic Diseases»
Contacto y Organización: Sergio Lavandero,  Fondap Advanced Center for Chronic Diseases (ACCDiS), Facultad Ciencias Químicas y Farmacéuticas, Universidad de Chile, Olivos 1007, Santiago, Chile 2015.
Email: secretariaaccdis@u.uchile.cl
Web informativa:Â http://www.accdis.cl/entrenamiento/courses/
Inscripción: http://www.icgeb.org/chile-accdis-international-2015.html
Cupos disponibles: 30 personas.
El Simposio es abierto a toda la comunidad.
Inscripciones hasta el 14 de agosto.